We have of 3 bedrooms espaciosos and contiguous, with capacity for a total of 32 squares, with doors of inner communication.
Bedroom Enxebre: with 10 beds in 5 bunks
Bedroom Buen Camino: with 10 beds in 5 bunks
Bedroom As Burgas: with 12 beds in 6 bunks
Although it treats of shared and mixed bedrooms, take care the distribution of squares and offer special prices for pilgrims, groups or families and that share a good experience of convivencia with other guests in the measure of the possible.
With seen to the city, have ventanales that allow the daily ventilation and the entrance of natural sunlight. For a more relaxed environment during the night, have of persianas and several lamps of foot with warm light.
The individual beds are in big and robust bunks (90×200 cm, that bear until 100 kg of weight).
The clothes of individual bed is a game of bedsheets of cotton.
In the reception can request the blankets or quilts.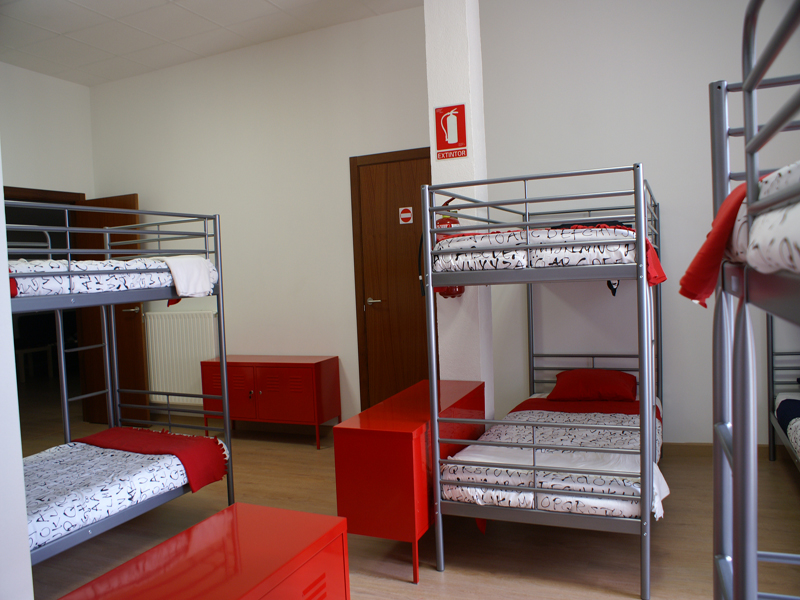 Each bunk is accompanied of modern tables-locker so that each guest can have saved his belongings manually with individual key and with capacity included for hand-held luggage (40 x 40 x 55 cm).
It consult in reception our services of save-luggage for luggages bigger or of lavandería.

Like point of recarga for mobiles, tablets or any device of the customer, have of plug near of each bed.
Next to the bedrooms, the hostel has 2 bathrooms shared and differentiated (masculine and feminine). 
They have a wide space for the aseo of several people at the same time with toilets, mirrors and dispensers of soap and paper towels.
In individual cabins, for greater comfort and privacy, distribute the toilets with toilet paper and the showers with dispensers of shampoo. 
If it needed it, it can request in reception towels of shower (with bail of 5 euros) and dryer of peel.