The standard price is €17 by bed/night (included taxes).
You can do your reservation in the reception of Grelo Hostel or through his system of on-line reservations.
It checks availability in our web of reservations
The price can be more expensive and the conditions of different reservation if the reservation effects through other channels or different collaborators to Grelo Hostel.
Like hostel of pilgrims in Ourense, the price for pilgrims would be of €15 by bed/night (included taxes) presenting The Credencial. If they had credited an upper price during the reservation, would give them back the difference in reception.
Besides, we have special prices for groups and families, by what do not doubt in consulting or request presupposed stops:
Groups with prolonged stays (from 2 or 3 nights)
Groups of more than 10 people
Reserves scoop of complete room (possibility of allocation by gender or age)
Students and/or workers in trip of company displaced with frequent organised stays.
Also it will be able to request without additional cost the change of dates or the return by cancellation of the reservation if it communicates with 7 days of antelación.
The credit of the stay can do with pay cash, charge card and banking entry. It will be able to request the bill if it wishes it in the service of reception.
Standard prices:          €17 by bed and night

Price for pilgrims:      €15 by bed and night

special prices for groups and families 
Reception and attention to the customer
In the reception of the hostel, are available for the attention to the customer and management of reservations in schedule
of 10:00 AM to 22:00 PM
Attention to the customer
To ensure the best experience in our accommodation, will inform to our customers of all what require to do that his stay was more comfortable and pleasant.
Like arriving to the Grelos Hostel
Use of installations and guidelines of coexistence
Measured of security and sanitary
tourist Information, activities and services in Ourense
Management of reservations
We will carry out the reservation management taking into account the following important aspects for the confirmation of your stay.
Registration hours of stay
Entrance (Check-in): from 12:00 to 14:00 and from 15:30 to 20:30 on the day of reservation. From 8:30 p.m. to 10:00 p.m. online.
Departure (Check-out): until 12:00 the next day.
Identification documentation
The guest must present the ID or driving license (nationals) or passport (foreigners).
In the allocation of beds and rooms, priority will be given to keeping members of families and groups in the same room (including providing an extra bed to the room or opening communication doors between them). As far as possible, we will also take into account the preferences and customer profile, to group like-minded guests with the aim of being able to enjoy the experience of living together.
One will be provided to each guest so that they can enter or leave the accommodation independently during night hours (from 10:00 p.m. to 10:00 a.m.). You will only have to enter the numerical code on the electronic keyboard at the entrance. The code is individual and will expire after the stay for security.
Every morning, the buffet breakfast will be available in the kitchen-office until 10:00 a.m., for all our clients. You will be able to enjoy everything you need for a varied breakfast:
Drinks: coffee, cocoa, infusions, milk, etc.
Cereals, pastries, toast (sliced ​​bread, margarine, jam)
Sweeteners and seasonings: sugar, saccharin, salt, oil, etc.
In addition, to prepare or eat other meals in the kitchen-office and dining room, customers can self-service from 6:00 a.m. to 11:30 p.m. They only have to take care to maintain their order and cleanliness, in addition to avoiding annoying noises during sleeping hours from other guests.
Bed linen, blankets and towels
Each single bed has bedding (cotton sheets).
At reception you can request blankets and duvets.
If any of our clients need it, they can also request a shower towel (€5 deposit)
Individual lockers and luggage storage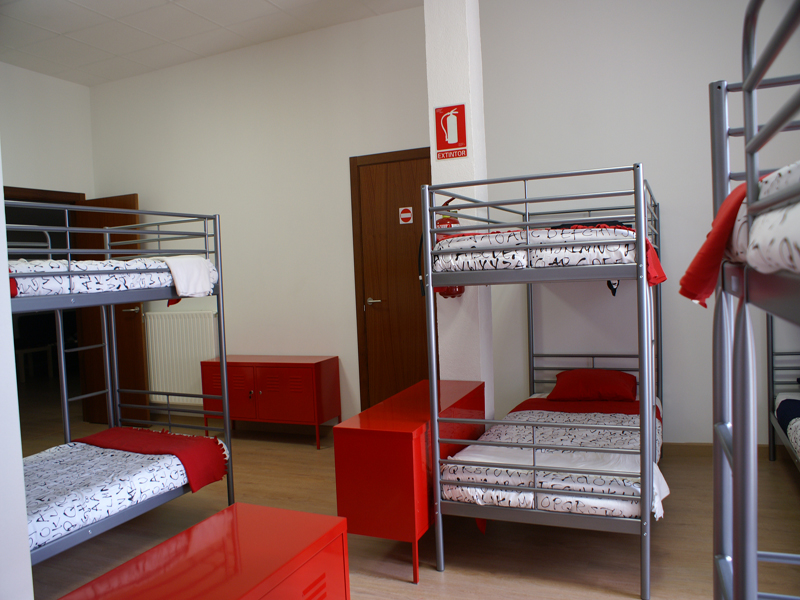 Hand luggage or personal belongings may be stored by customers in their individual locker-table with their own key. Larger suitcases can be kept in the reception warehouse.
Bicycle parking and storage
Clients may freely request that their bicycles be stored safely and in the Grelo Hostel parking lot. We also have storage areas for the reception or custody of the backpack and belongings delivery service, between stages.
All our guests will enjoy Internet access via Wifi, free in all Grelo Hostel facilities.
Laundry (additional price)
We offer our guests the hostel's own laundry service (modern washer and dryer). The service will be performed upon request and upon payment of €5.